Head off Winter Irritated Skin
Irritated, dry skin's new best friend is Ectoin!
Calming and quieting.
Soothing protection for dry, inflamed skin.
Restore Your Compromised Skin Barrier
Your skin's Oasis
Ectoin + Ceramides Cream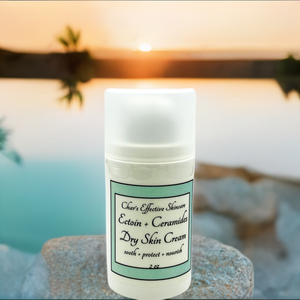 Think your Sensitive Skin Can't Enjoy a Vitamin C Serum? Our newest Serum will change your mind! Ethyl Ascorbic Acid Serum + Cica, Ferulic Acid & Licorice Extract
A gentle but powerful, revitalizing Vitamin C Serum that visibly smooths, brightens, helps reverse previous UV photodamage, and firms the skin. Specifically designed for Sensitive Skin, this serum is also wonderful for All Skin types. Experience no stinging, burning, or irritation while achieving the same impressive results!
Click the button to discover more.
Ethyl Ascorbic Acid Serum
Re-Introducing Fresh Skin! Banish Dull, Suffocated Skin and Reveal Healthy Radiance
Exfoliate and Moisturize all in one bottle! Better than ever with the Unique Combination of Water Kefir PHA, Lactic Acid and Pumpkin Enzymes. Exfoliate without irritation, redness or excess flaking. Awaken to brightened, refreshed skin!
Fresh Skin
Our Bakuchiol Collection is Unparalleled! Who can resist when Nature and Science merge so beautifully?
Do you prefer a light creamy serum?  An all-oil serum?  Perhaps a silky moisturizer?  Or, completely pared down? Dry skin, sensitive or oily, problem skin... we have your choice! The benefits of Retinol without the negative side effects for all skin types.  
Our Bakuchiol products have an industry high 3% concentration of authentic, purified Bakuchiol.  With this full range of Choices, a Bakuchiol serum or cream is sure to please you!
Bakuchiol Collection
Ask Your Questions! We love them!
Do you have a specific skin issue, or questions about ingredients, or need more personalized guidance for your skincare selections? Please pose your questions at: Info@charseffectives.com.  We'll answer swiftly.  Our goal is that you are comfortable with your skincare selections--not just get a quick sale! 
Blog
Many of us enjoy the winter-- but let's admit--most of us don't want The Dreaded Winter Dry Skin! Stepping up our skincare is essential during the winter months as central heating...
Inner Circle Gold Program is Our Way of Thanking You!
It's Easy!  Not a complicated "rewards" program. We are so grateful to you for liking and using our skincare products that we had to find a way to Thank You! 
After you spend a cumulative $300 with us, we will send you your special Inner Circle code for you to receive 10% off on ALL future orders! All you need to do is remember to use your forever code!