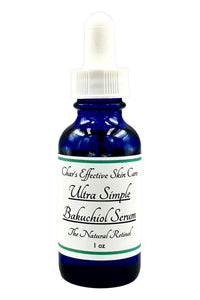 Char's Effectives!
Ultra Simple Bakuchiol Serum Natural Retinol Alternative (3%)
Regular price
$31.00
$0.00
Unit price
per
Our Bakuchiol Collection is unparalleled!  You now have seven Bakuchiol choices for all skin types.  One or two are sure to please you.
For those who want a truly pared-down, simple, and unscented Bakuchiol facial oil Serum the Ultra Simple Bakuchiol Serum is here for you.  Bakuchiol is especially kind to sensitive skin!
If you prefer a serum with a light, milky texture-we suggest the Creamy Bakuchiol Serum for all skin types, or the Clarifying Bakuchiol Serum for Oily/Problem Skin
BENEFITS & DESCRIPTION:
Ultra Simple Bakuchiol Serum's only other ingredients in addition to an industry-high 3% concentration of Bakuchiol are Squalane and Vitamin E.  
Bakuchiol-

 c

linically proven plant-based active ingredient that visibly fights the signs of aging and problem skin without the irritating effects of synthetic Retinol. 

 The purified, authentic, high-performance active, 

Sytenol

®A.

  Used at an industry high 3%.  (Visit our Blog about the importance of Bakuchiol's purity). Especially gentle and well supported by sensitive skin types. 
Neossance™ Squalane is both ECOCert-approved and Sugar based.  Light, silky emollient, "skin-mimetic", non-comedogenic (doesn't cause breakouts).  
Bakuchiol has non of the harsh side effects of Retinol-but has many of the same benefits!  Bakuchiol is a multi-tasker for all skin types:
Potent antioxidant
Antimicrobial helping break-out prone skin
Anti-inflammatory, helps reduce irritation, redness 
Anti-aging
Promotes Collagen synthesis
Visibly reduces fine lines and wrinkles
Reduces the appearance of hyperpigmentation caused by sun damage and acne scarring.
Well tolerated by all skin types (especially for those with sensitive skin!)
SIMPLE USAGE:
Because this is an oil facial serum, it's best used at night applied after cleansing and water-based serums.  Gently press and massage onto face, neck and décolletage (as always, use care near eyes).  Gently massage upward and outward .  Then add cream moisturizer if desired to seal in benefits.  Wake up to smoother, healthier skin!

      Additional Tips: 
Using this Serum in the evening pairs well with the 3% Creamy Bakuchiol Serum for daytime use-- giving you 24 hour optimal Bakuchiol benefits!
A remarkable duo:  Mixing a few drops of this serum together with a pump or two of the

 

10% Niacinamide Serum

 

is an effective combination and is well tolerated by those with sensitive skin. Resulting in a beautiful, healthy glow.
Can

 

be used in conjunction with Retinol products if your skin is not sensitive to using Retinol. Some may use Retinol products only a couple of times per week due to irritation and then use Ultra Simple Bakuchiol Serum on their "off Retinol" evenings. 
Applying this serum after the Vitamin C Serum is an effective and potent antioxidant combination. (Vitamin C in the form of l-Ascorbic Acid may not be well tolerated by those with sensitive skin.  For sensitive skin we recommend using the Ethyl Ascorbic Acid Serum).
Mix a couple of drops when applying your cream moisturizer to increase benefits  
As with any new skincare-- give 3-4 weeks time to produce maximum results  (As much as we would like overnight solutions!)  
1 oz cobalt blue glass bottle with dropper       
UNSCENTED                         
A VEGAN PRODUCT
INGREDIENTS:  
Squalane. Bakuchiol, Tocopherol (Vitamin E)
Please hop onto our Blog to learn about the skincare benefits of Bakuchiol.
---
Share this Product
---