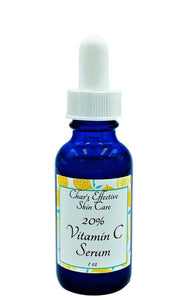 Char's Effectives!
20% Vitamin C Serum with Ferulic Acid & Antioxidants
Regular price
$38.00
$0.00
Unit price
per
You now have three Vitamin C Serum choices! This 20% strength Vitamin C Serum is for those who are well acclimated to Vitamin C, do not have sensitive skin, and simply want more Vitamin C goodness for their skin. The 15% Vitamin C Serum is for those who are new to Vitamin C.  If you have Sensitive Skin we recommend the Ethyl Ascorbic Acid Serum.

BENEFITS & DESCRIPTION: 
Is your skin looking dull, uneven, less firm... just lost its healthy glow?  Then Vitamin C with Ferulic Acid is just the "drink" your skin needs to restore its healthy look and radiance!
Vitamin C is one of the most vital of your age-defying ingredients. Visibly brightens and evens skin tone; lessens the appearance of fine lines and wrinkles. Its potent antioxidant benefits are clinically known to help defend and protect skin from free radical damage, making it essential for healthy, youthful-looking skin. 
Known to visibly lighten and reduce appearance of scars, age spots, and brown spots. Evens out skin tone, and enhances skin radiance.
Benefits most skin types (except very sensitive skin).  If you have sensitive skin we recommend our effective Ethyl Ascorbic Acid Serum.
Ascorbic Acid is used at a 20% concentration.  It's paired with other antioxidants.  You are on your way to brighter, more even-toned, luminous, and smoother-looking skin!

USAGE and TIPS:
Vitamin C Serum is best applied as the first step after cleansing.  Apply a few drops into the palm of your hands and press into your face, neck, and décolletage.  Massage, being careful around your eyes (pat with fingertips).
Let Vitamin C Serum "dry down" before applying other serums and moisturizing cream afterward.  The "dry down" is especially important if you use products with high percentages of Niacinamide (such as the 10% Niacinamide Serum).  
Other helpful tips:
To avoid oxidation (which Vitamin C is prone to do) please squeeze the dropper

 

outside

 

of the bottle

 

then dip it into the bottle to draw the serum into the dropper. Just this small action will avoid pushing air into the bottle and prolong Vitamin C's efficacy and shelf life.  Keep your serum out of the light and high heat.  Shelf life is 3-4 months from the time it is opened. 
If you've never used Vitamin C serums before--it is best to begin with the 15% Vitamin C Serum.
Vitamin C can take a bit of getting used to. If irritation persists after a few days, please discontinue use or consider the lower 15% Vitamin C Serum.  If your skin is sensitive we suggest the Ethyl Ascorbic Acid Serum.
Add a few drops into the palm of your hand and mix with your moisturizer.
Apply any excess to the back of your hands which helps reduce brown age spots!
1-ounce glass bottle with Dropper dispenser.                        A Vegan Product
EFFECTIVE INGREDIENTS:
L-Ascorbic Acid-the most potent form of Vitamin C at a 20% concentration
Bisabolol- natural skin soother
Ferulic Acid-powerful antioxidant
Hyaluronic Acid-for deep oil-free hydration
Bisabolol-

 

soothing, reduces irritation
Pomegranate and Orange Blossom Extracts-

 

a special blend to help reduce the appearance of fine lines & wrinkles and lifting
Centella Asiatica and Green Tea Extracts- effective botanical antioxidants
Vitamin E-Antioxidant
Sparingly and naturally scented. 
ALL INGREDIENTS:
Water - Ascorbic Acid (Vitamin C) - Ethoxydiglycol - Propylene Glycol (natural) - Laureth-23 -  Camellia Sinensis (Green Tea) Leaf Extract -Glycerin- Panthenol - Punica Granatum (Pomegranate) Extract/Citrus Aurantium Dulcis (Orange) Flower Extract - Ferulic Acid - Bisabolol - Sodium Hyaluronate - Tocopherol (Vitamin E) - Phenoxyethanol - Triethanolamine - Natural Fragrance
---
Share this Product
---