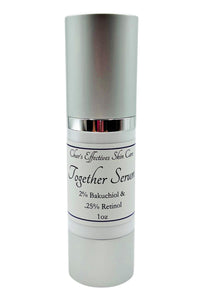 Char's Effectives!
Together Serum with 2% Bakuchiol & .25% Retinol
Regular price
$36.00
$0.00
Unit price
per
The NEWEST Introduction to our Bakuchiol Collection!
BENEFITS & DESCRIPTION:
Our Together Serum is a synergistic blend of 2% Bakuchiol and a low level of Retinol, designed to give maximum results with minimal irritation. Enjoy smoother, firmer skin, reduced appearance of hyperpigmentation, and increased tone and luminosity with this perfect pairing of two powerful antioxidants.  
Bakuchiol helps reduce the irritation potential and unwanted side effects of Retinol.  In concert, each boosts the performance of the other!
Welcome rejuvenation with this dynamic duo.
Many reasons to use Together Serum!  Beneficial for those who:
cannot tolerate higher levels of Retinol but still would like its benefits from a lower level together with gentle, natural Bakuchiol 
use higher strength Retinol or prescription strength 2-3 times per week and wish to have continuous Retinol benefits at a lower level on their "off " nights 
use Bakuchiol during the day and wish to have a boost from a low level Retinol together with Bakuchiol in the evening
would like to visibly reduce appearance of scarring and "adult acne" 
have sensitive skin who could not use Retinol before* 
for those who want to begin enjoying the benefits of Retinol*
*We highly recommend a patch test for a few nights for those with sensitive skin or those who have never used Retinol before applying to entire face.

EFFECTIVE INGREDIENTS MAKES OURS DIFFERENT:
Bakuchiol: (only the authentic

Sytenol®A

) Known as the natural and gentle alternative to Retinol.  Used at 2% together with a low level of Retinol--it's a beautiful synergy of two powerhouses!  Helps appearance of a multitude of skin issues (See our Blog  to learn more about Bakuchiol's benefits)
Retinol: Known as the "gold standard" although many cannot tolerate the side effects at higher levels.  A .25% low level is enhanced by the Bakuchiol and is a gentle way to introduce your skin to Retinol! 
Ceramides Complex: Helps protect skin's protective barrier, and retain moisture reducing TEWL (trans-epidermal water loss)
Niacinamide: Works exceptionally well with Retinol.  Sooths, visibly improves pore size, restores skin's barrier.  Excellent for all skin types.
Licorice Root Extract:  Known to soothe skin and visibly improves hyperpigmentation and old scar discolorations.
USAGE RECOMMENDATIONS:
Use during your evening skincare ritual.  For those with sensitive skin, after doing a patch test for a few evenings, please start using 2-3 evenings per week and build up to nightly use.  (For the rest of your evenings, we suggest another Bakuchiol product from our Bakuchiol Collection that is suitable for your skin type).
Apply to a dry face and neck after cleansing- avoiding contact with lips and near eyes. We highly recommend following with a hyaluronic-based serum and a creamy serum or moisturizer suitable for your skin type (you may wish to explore some of our options!).  Also, apply sunscreen the following day.
Be patient- as much as we love instant results- Retinol normally takes about 4 weeks to show positive results!
Not recommended to use if you are pregnant or have active eczema or rosacea.  A Bakuchiol-only product would be suggested! Please see the rest of our Bakuchiol Collection  for your best option! 
Keep the bottle out of sunlight/heat.  The bottle is opaque, however heat may degrade retinol (this is true of most Retinols).
1oz airless bottle.                
UNSCENTED                       
VEGAN
ALL OF THE INGREDIENTS:
Water, Glycerin - Glycyrrhiza Glabra (Licorice) Root Extract - Niacinamide - Bakuchiol - Butylene Glycol - Ceramide NP/Ceramide AP/Ceramide EOP/Phytosphingosine/ Cholesterol/Sodium Lauroyl Lactylate - Retinol - Caprylol Glycine, Benzyl Alcohol/ Benzoic Acid/Dehydroacetic Acid/Tocopherol - Polyacrylate-13/Polysobutene/Polysorbate 20 - Xanthan Gum  
---
Share this Product
---